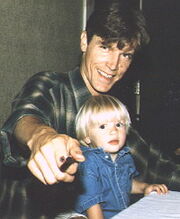 Ardwight Chamberlain (Born 16 February, 1957 in San Mateo, California) (sometimes credited as R.D. Chamberlain or R. Dwight) is a voice actor and screen writer currently living in Los Angeles, California. He is best known as the voice of Vorlon Ambassador Kosh on the science-fiction television series Babylon 5. He has also written a number of episodes for the animated TV show Digimon: Digital Monsters. He has appeared on the game show Jeopardy!, and has written and provided voices for the English dubbed versions of several Japanese anime works. Ardwight wrote the screenplay for "Robotech: The Movie" and was a staff writer for the Robotech animated series.
Chamberlain did the voice for both Kosh (a main cast member of the series) and Ulkesh in the Babylon 5 series starting in 1994 until 1997, totaling 20 episodes. Although he has been "the voice" of Kosh, the man underneath the encounter suit was Jeffrey Willerth.
He provides the voice for the character of Nicolai (Nicolas) Conrad in the English language version of the video game Shadow Hearts: Covenant (2004). Chamberlain has also re-written a script for Ninja Scroll: The Series. Chamberlain both wrote and directed the action/animation/sci-fi TV series Tekkaman Blade for Saban.
External Links
Community content is available under
CC-BY-SA
unless otherwise noted.