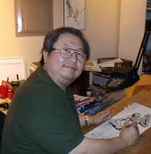 Ben Dunn (born 17 April, 1964 in Taiwan) is an American comic book artist. Although born in Taiwan, he grew up in Kentucky, Taiwan and San Antonio, Texas. It was in Taiwan that he was first exposed to Japanese manga. In 1984 he founded Antarctic Press, an American comic book company specializing in Manga-style titles. The line purchased the rights to print Robotech titles years later, and Ben thus did art for many Robotech comics. In 2003, he sold Antarctic to start his own development company, Sentai Studios.
Dunn was also one of the primary artists involved in the short-lived Marvel Mangaverse project. In 2006, Dunn worked as an animator for the science-fiction film "A Scanner Darkly." His most notable creations for Antarctic are the comic book series Ninja High School and Warrior Nun Areala.
Dunn now lives in the Dallas Metroplex with his wife and two children.
Community content is available under
CC-BY-SA
unless otherwise noted.