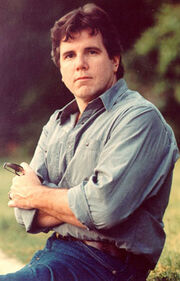 Brian Daley (born Brian Charles Daley, 22 December 1947 - 11 February 1996) was an American science fiction novelist. He also adapted for radio the Star Wars radio dramas and wrote all of its episodes.
Daley also wrote several science fiction and fantasy novels under his own name, including the novelization of the movie Tron.
Daley also wrote under the pseudonym Jack McKinney with his good friend of 20 years, James Luceno. Together, they wrote over 20 Robotech novels and collaborated on the Black Hole Travel Agency series. Luceno is responsible for editing the 1,600-page manuscript of Daley's Gamma L.A.W. quartet, which was published posthumously. Daley and Luceno were also amongst a team of writers for the 1986 television cartoon series, The Adventures of the Galaxy Rangers.
Mr. Daley died on February 11, 1996 from complications of pancreatic cancer at the age of 49.
See Also
External Links