The FA-109 Sylphid was a Robotech Veritech used during the Second Robotech War.
Appearances
Tertiary sources
Behind the scenes
Name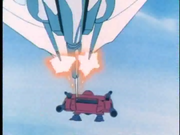 The name of the Sylphid is never stated on screen or in other media. The Sylphid title originates from the Japanese source material. Although fan-created sources named it the VF-7, it is referred to as the FA-109 in Robotech RPG books.
Transformation
Recent fan debates have questioned whether the Sylphid, referenced to as a Veritech Fighter, actually posses the ability to transform. This has been backed up by the fact that the Mecha seems to hold many similarities to the VF-1 Valkyrie that would allow for transformation, including the turret underneath that would normally form the head of the VF-1.
While it might be possible for future media to expand on this, it's almost certain that this was not a purposeful detail.
Characteristics
At least two distinct models of it are seen in the series, one with forward-swept wings and the other a more straight-winged version. It is not clear if they are distinct variants or simply an animation error.
Community content is available under
CC-BY-SA
unless otherwise noted.