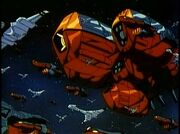 A flagship is a vessel used by the commanding officer of a group of naval ships, reflecting the custom of its commander, characteristically a flag officer, flying a distinguishing flag. Used more loosely, it is the lead ship in a fleet of vessels, typically the first, largest, fastest, most heavily armed, or best known.
Known Flagships
Earth
Zentraedi
Robotech Masters
Haydonites
Community content is available under
CC-BY-SA
unless otherwise noted.