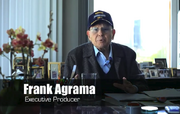 Frank Agrama (born 1 January, 1930) is the founder and chief executive officer (CEO) of Harmony Gold USA, Inc. He is the son of Ahmed Agrama. Frank is also notable for being the Producer and Executive Producer on numerous Robotech projects, including Robotech: The Movie, Robotech II: The Sentinels, Robotech: Battlecry, and Robotech: The Shadow Chronicles. He holds a "special thanks" credit on both Robotech: Invasion and Robotech: Love Live Alive. He is currently listed as one of the executive-producers of the live action movie.
External Links
Community content is available under
CC-BY-SA
unless otherwise noted.