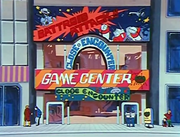 An arcade game or coin-op is a coin-operated entertainment machine typically installed in public businesses such as restaurants, bars and amusement arcades. Most arcade games are video games, pinball machines, electro-mechanical games, redemption games or merchandisers.
While trying to get back at Max Sterling, Miriya went to the Game Center (which Miriya believed to be a combat training facility) on the SDF-1. She found herself unbeatable at a combat simulation game. Max, who was attracted to Miriya, challenged her to a video game in the hope of getting to know her better. After a short game, Max defeated her, and Miriya concluded (correctly) that Max must be the ace pilot whom she faced in real combat. Max won both rounds of the game played, and Miriya was furious that she has been beaten again. As she stormed off, Max asked her out on a date. Miriya, still determined to defeat him, accepted, agreeing to meet him the at a local park. (Macross Saga: Showdown)
Community content is available under
CC-BY-SA
unless otherwise noted.