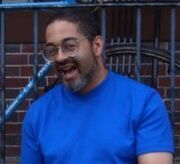 Mike Leeke broke into comics in 1985, when he landed a job as the penciler of Robotech: The Macross Saga for Comico Comics. When that assignment ended, he was hired to pencil The Elementals for Comico Comics. After three years of penciling that book, Comico began to have financial troubles. Mike sent out samples to various companies, some of which were noticed by Bob Layton, the Editor-In-Chief of Valiant Comics. Bob hired Leeke to pencil X-O Manowar. At Valiant, Mike Leeke's work included pencils on Hard Corps, PSI-Lords, Deathmate, The Visitor, and Dr. Mirage. From Valiant, Leeke moved on to Lone Star Press, where he became the artist on Pantheon.
External Links
Community content is available under
CC-BY-SA
unless otherwise noted.