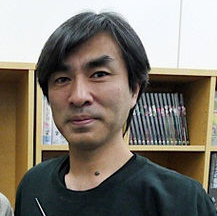 Shoji Kawamori (河森 正治,, Kawamori Shōji?) (born 20 February, 1960) was an anime creator and producer, screenwriter, visual artist and mecha designer. He occasionally used the alias Eiji Kurokawa (黒河影次 Kurokawa Eiji) early in his anime career when he started as a teenage intern at Studio Nue and worked as assistant artist and animator there during the late seventies and early eighties. He was one of the creators of the concepts of Super Dimension Fortress Macross as well as the Mecha designer. Other projects he was involved in were mecha designer for Eureka Seven and Diaclone, and being an original creator for Escaflowne.
External Links
Community content is available under
CC-BY-SA
unless otherwise noted.