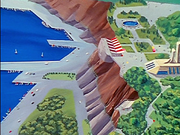 Yokohama was a city in Japan, notable for being the initial home of much of the Lynn family.
Notable land marks in the city included the New Marine Tower. Mount Fuji was near the city. The city also featured China Town, a Chinese-centered street where immigrants from the country were known to move to. This location was where Lynn Lina, Lynn Max, Lynn Kyle, Lynn Minmei, Minmei's father, and mother moved to after leaving China. Minmei's parents set up a restaurant there, called the "Golden Dragon," while the rest of the family eventually moved to Macross City and Macross Island by 2006. (Macross Saga: "Homecoming")
In 2010, Minmei was flown back to her home city by Rick Hunter after being lost in space on-board the SDF-1 for 12-and-a-half mounts. She attempted to show him many of the local landmarks, but was unable to get him highly interested in any of it. Upon leaving the city, they took Lynn Kyle back to the island. (Macross Saga: "Homecoming") The town was destroyed during the Rain of Death, along with the rest of the country and most of the planet. (Macross Saga: "Homecoming")
Community content is available under
CC-BY-SA
unless otherwise noted.